Fast shipping!!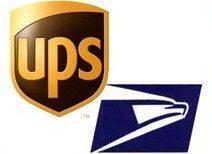 You can choose a delivery type on the checkout order. 
 We're working with USPS and UPS so you will always have a tracking number. You'll get a message containing your order details, tracking number, and the date of delivery.
You can choose delivery the standard US delivery which takes 2-3 days if item is in stock. Speciality orders and made to order 2 to 4 weeks
Over 95% of our orders shipped on the same day if in stock.
Our manager will promptly contact you if the product appears to be out of stock to discuss estimate making and delivery time and to offer you an alternative product. 
* If there is no ordered hair length in stock, we usually ship the more extended cut for the same price.
* Your package is secured with a USPS and UPS loss insurance. 
 We are paying all return fees.You need to print out a bar code and attach it to the returning package.
 On return:The product must be packed, must have a bar code tag and must be unused. 
 Your money will be automatically refunded 2-3 days after we receive a package and check the product. If you ordered the wrong item and are wanting a refund, that is not in our return policy. And will not be refunded 
 We manufacture our products at our factory in the highest standard of Slavic hair. That's why we can guarantee its highest quality.